Subscribe to the SPOTLIGHT Theatre Series
THEATRE SERIES SUBSCRIPTIONS
The SPOTLIGHT Theatre Series includes the best national and international touring performances in theatre. Our 2022-2023 Season is filled with stories from our past and meditations on our future that come alive through song, projection, and even acrobatics!
Theatre Series subscribers get the very best seats for the very best price: 5 Shows for just $150 (25% off), including the extremely limited run of Prophecy Fog! While tickets are available, you will be prompted to add Prophecy Fog to your cart when purchasing your Theatre Series subscription online.
Renewing subscribers: login to your account using the 'LOGIN' button in the upper right hand corner and follow the prompts to renew your subscription.
New subscribers: click the subscribe link below or call our Box Office at 250-549-SHOW (7469) to secure your seats.
Season Events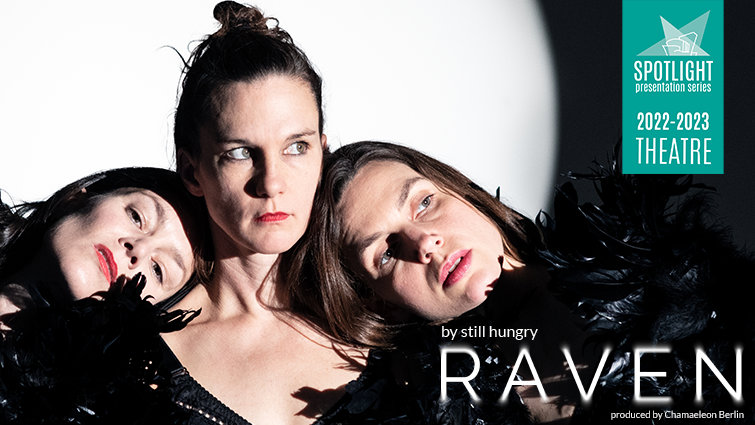 Vernon District & Performing Arts Centre Presents
RAVEN
By Still Hungry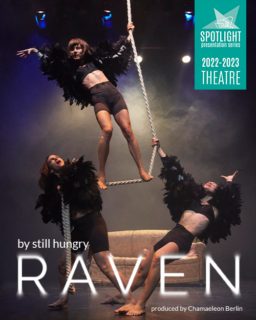 $45.00 Adult
$42.00 Senior
$40.00 Student
RAVEN, charmingly honest and highly entertaining, confronts the complex topic of motherhood. Based on their own experiences as artists and mothers, the performers of the Berlin-based collective still hungry, examine the stigma surrounding the German concept "Rabenmutter" (raven mother) with courage, intelligence, and artistry. Thanks to creative support from the renowned British director Bryony Kimmings, they stage a striking, authentic world filled with stunning acrobatics, beautiful imagery, and honest humour.
With disarming directness and the unmistakable personality of the fearless circus moms, the performers bring a moving show to the stage, which challenges the status quo and invite us to question our preconceived notions of working mothers, women, and circus performers.
Warm-hearted, funny, smart, and accessible: Experience RAVEN, a powerful and refreshingly different piece of contemporary circus about motherhood.
Winner of The Scotsman Fringe First Award 2019
Shortlisted for the Total Theatre Award for Circus 2019
Winner of ThreeWeeks Edinburgh Award 2019