Subscribe to the SPOTLIGHT Theatre Series
THEATRE SERIES SUBSCRIPTIONS
The SPOTLIGHT Theatre Series includes the best national and international touring performances in theatre. Our 2022-2023 Season is filled with stories from our past and meditations on our future that come alive through song, projection, and even acrobatics!
Theatre Series subscribers get the very best seats for the very best price: 5 Shows for just $150 (25% off), including the extremely limited run of Prophecy Fog! While tickets are available, you will be prompted to add Prophecy Fog to your cart when purchasing your Theatre Series subscription online.
Renewing subscribers: login to your account using the 'LOGIN' button in the upper right hand corner and follow the prompts to renew your subscription.
New subscribers: click the subscribe link below or call our Box Office at 250-549-SHOW (7469) to secure your seats.
Season Events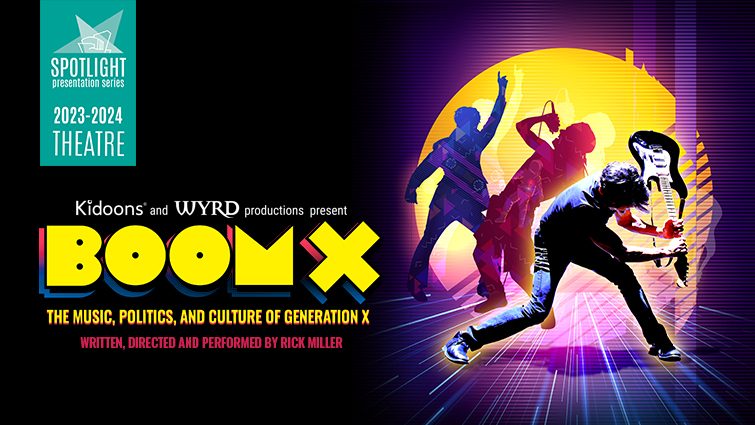 Vernon District & Performing Arts Centre Presents
BOOM X: The Music, Politics, and Culture of Generation X
A Kidoons in Association with Theatre Calgary and 20K Collective Production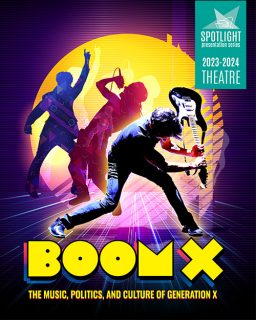 $45.00 Adult
$40.00 Senior
$42.00 Student
He's back! BOOM X is the explosive new solo show by Rick Miller that captures the music, pop culture, and politics of the 70s, 80s and 90s. From Atari to Kurt Cobain, Watergate to punk rock, Rick captures generation-defining moments through music and impersonation. He gives voice to over 100 different characters in this stunningly staged production that blends cutting-edge multimedia with tour-de-force storytelling.
BOOM X is the second in Miller's trilogy of solo multi-media performances that collectively span 75 years and chronical generation-defining moments for the baby boomers, generation X, and millennials.
"STUNNING… A marvellous mashup of media, verbatim theatre, jukebox musical and autobiographical confession" (Globe & Mail)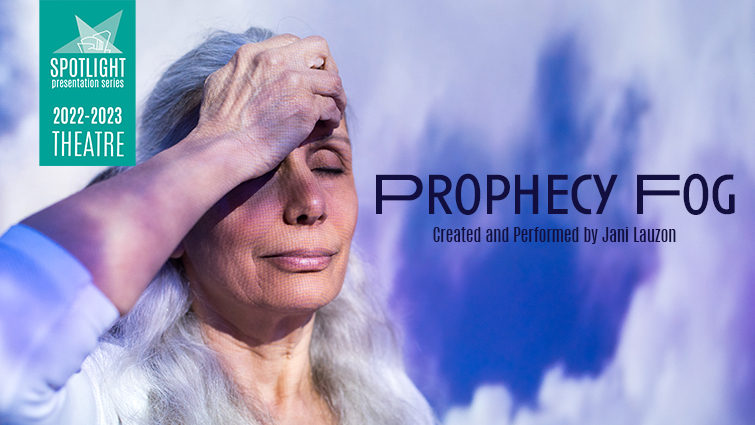 Vernon District & Performing Arts Centre Presents
PROPHECY FOG
Created and performed by Jani Lauzon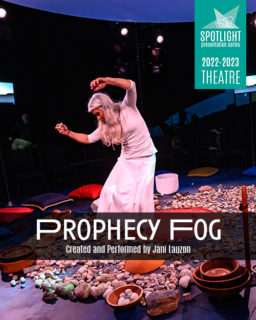 $30.00 All Seats

A new work by award-winning artist, Jani Lauzon, Prophecy Fog begins with a journey into the Mojave Desert in search of Giant Rock, armed with the question: can a site still be sacred if it has been desecrated?
We encounter a girl in the mountains of B.C with a pocket full of stones, the rainbow warrior's prophecy, and a mysterious inscription that obscures our past.
"We come from the stars, we are star people."
Prophecy Fog weaves together the performance skills of veteran raconteur Jani Lauzon and the expertise of Environmental Designer Melissa Joakim, along with Director Franco Boni to elicit a conscious remembering of ancient prophecies that speak to rock teachings, star beings and earth changes.
Duration: Approx. 75 mins
Age recommendations: 14+
Audience Advisory: Crystal Singing Bowls are activated during the play. The bowls are played for no longer than 1-2 minutes.
Please note that this is a general admission performance and patrons are seated both on chairs and on cushions on the floor. Patrons with mobility concerns are encouraged to select 'chair' seats when purchasing tickets online or contact the Ticket Seller Box Office to reserve their seating.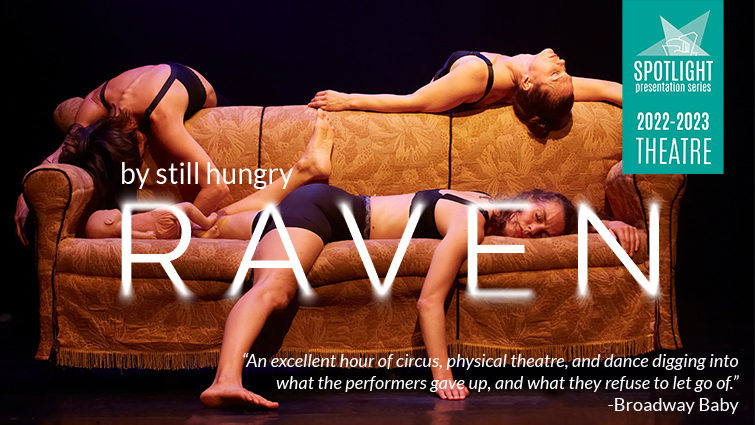 Vernon District & Performing Arts Centre Presents
RAVEN
By Still Hungry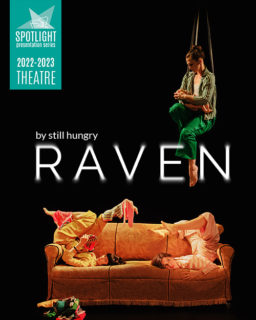 $40.00 Adult
$37.00 Senior
$35.00 Student
RAVEN, charmingly honest and highly entertaining, confronts the complex topic of motherhood. Based on their own experiences as artists and mothers, the performers of the Berlin-based collective still hungry, examine the stigma surrounding the German concept "Rabenmutter" (raven mother) with courage, intelligence, and artistry. Thanks to creative support from the renowned British director Bryony Kimmings, they stage a striking, authentic world filled with stunning acrobatics, beautiful imagery, and honest humour.
With disarming directness and the unmistakable personality of the fearless circus moms, the performers bring a moving show to the stage, which challenges the status quo and invite us to question our preconceived notions of working mothers, women, and circus performers.
Warm-hearted, funny, smart, and accessible: Experience RAVEN, a powerful and refreshingly different piece of contemporary circus about motherhood.
Winner of The Scotsman Fringe First Award 2019
Shortlisted for the Total Theatre Award for Circus 2019
Winner of ThreeWeeks Edinburgh Award 2019